Get ready for your travels
Your safety is our priority. Please find below everything you need to know about air travel in Greece, as well as the protection measures we have implemented so that you can enjoy a safe, worry-free travel experience.
Intensive Cleaning & Disinfection
Special attention given to WCs, security trays and other frequently touched surfaces and devices

Hand Sanitizing Stations
Hand sanitizers are available within the terminal building

Placement of Protective Shields
Protective panels have been placed at service counters

Enhancement of Contactless Processes
Contactless self-service and transaction is recommended where available

Embarkation / Disembarkation through Pedestrian Walkways
Procedures in place for transfer of passengers to/from the aircraft

Raising Passengers' Awareness on Protective Measures
Continuous updates through display monitors, announcements and posters/markings

Personal Protective Equipment to Airport Staff
Fraport Greece employees have been provided with all required personal protective equipment

Continuous and Thorough Training
The airport staff adheres to the measures of the competent authorities and implements the industry's best practices
Wearing a protective mask in the passenger terminal building at the airport is compulsory.
Domestic travel is allowed only for essential reasons until December 7th 2020 (until 6am). Essential travel, properly documented, shall include travel for health issues, business purposes, imperative family reasons and returning to permanent residence.
For further information and updates as well as for inquiries related to the documentation required for essential travel, passengers are advised to contact their airline or travel agent.
The following entry measures and restrictions apply for international travel:
All permanent residents of Greece, travelling from all airports in Greece, to international destinations are obliged to have completed the Passenger Locator Form (PLF). For further information about the procedure and the form please click here.
All passengers arriving on international flights are also obliged to have completed the Passenger Locator Form (PLF) and will be subject to random tests upon arrival.
All non-EU citizens are prohibited to enter the Hellenic Republic until December 14th 2020. The following are exempted from the restriction:
Citizens and permanent residents from Australia, Japan, New Zealand, Rwanda, South Korea, Singapore, Thailand, Uruguay and the United Arab Emirates.
In order to prove the place of residence, third-country nationals may present their residence permit, work permit, identity card, driving license or other documents, provided that they state the place of residence.
EU Member States nationals and the Schengen Agreement, including their spouses or persons with whom they have a cohabitation agreement, as well as their minor children.
Passengers travelling for essential reasons, including health issues, business purposes, imperative family reasons, persons in need of international protection.
Medical and nursing staff, researchers and health professionals, if they demonstrate at the points of entry in the country, the exercise license profession or other appropriate evidence of their professional status and provided that their entry into the country relates to the exercise of their professional duties.
Long-term residents of EU member states or Schengen agreement and third country nationals, holding a residence permit in EU member states or Schengen agreement.
Members of government delegations.
Members of diplomatic delegations or consulate authorities and delegations, members of international and European organizations, members of humanitarian organizations during the performance of their duties, military and security forces officials and of General Secretariat for Civil Protection.
Personnel employed in the transport sector, including seamen, aircraft crews, the crews and the technical personnel of the leased aircraft firefighting equipment, lorry drivers and the absolutely necessary support staff for the transport of goods.
Passengers in transit.
Students.
Persons caring for the elderly and people with disability.
Seasonal workers in the field of agriculture.
Third country nationals subject to the prohibition herein have the right to submit request to the Greek Consular Authority of their place of residence or stay for their exceptional entry in the country for business or personal reasons. A completed PLF is also compulsory.
All passengers entering Greece are obliged to display a negative molecular test (PCR) for Covid-19 (in addition to the PLF), performed by taking an oropharyngeal or nasopharyngeal smear, conducted up to 72 hours before arrival in Greece. This measure is in force until December 14th 2020.
Ban on flights to/from Turkey and the territory of Catalonia of Spain is in force until December 14th 2020.
For inquiries related to entry restrictions in Greece, passengers may contact the local Consulates or Embassies of Greece, by clicking here.
As the pandemic progresses, the directives in force and/or restrictions may be amended based on epidemiological criteria. We strongly suggest you contact the respective airline and/or travel agency for the latest available updates.
Safety distances should be maintained to the extent possible. Relevant information is communicated through floor markings, announcements, monitors and posters. Stanchions have also been placed throughout the airport, supporting social distancing to the maximum extent feasible. Individual responsibility is also essential.
If you have COVID-19 compatible symptoms (fever and/or respiratory symptoms such as shortness of breath or cough), you should not present yourself at the airport for flight and seek for medical advice. If you develop these symptoms at the airport premises, you should contact the nearest member of airport staff who will be able to provide you with further information.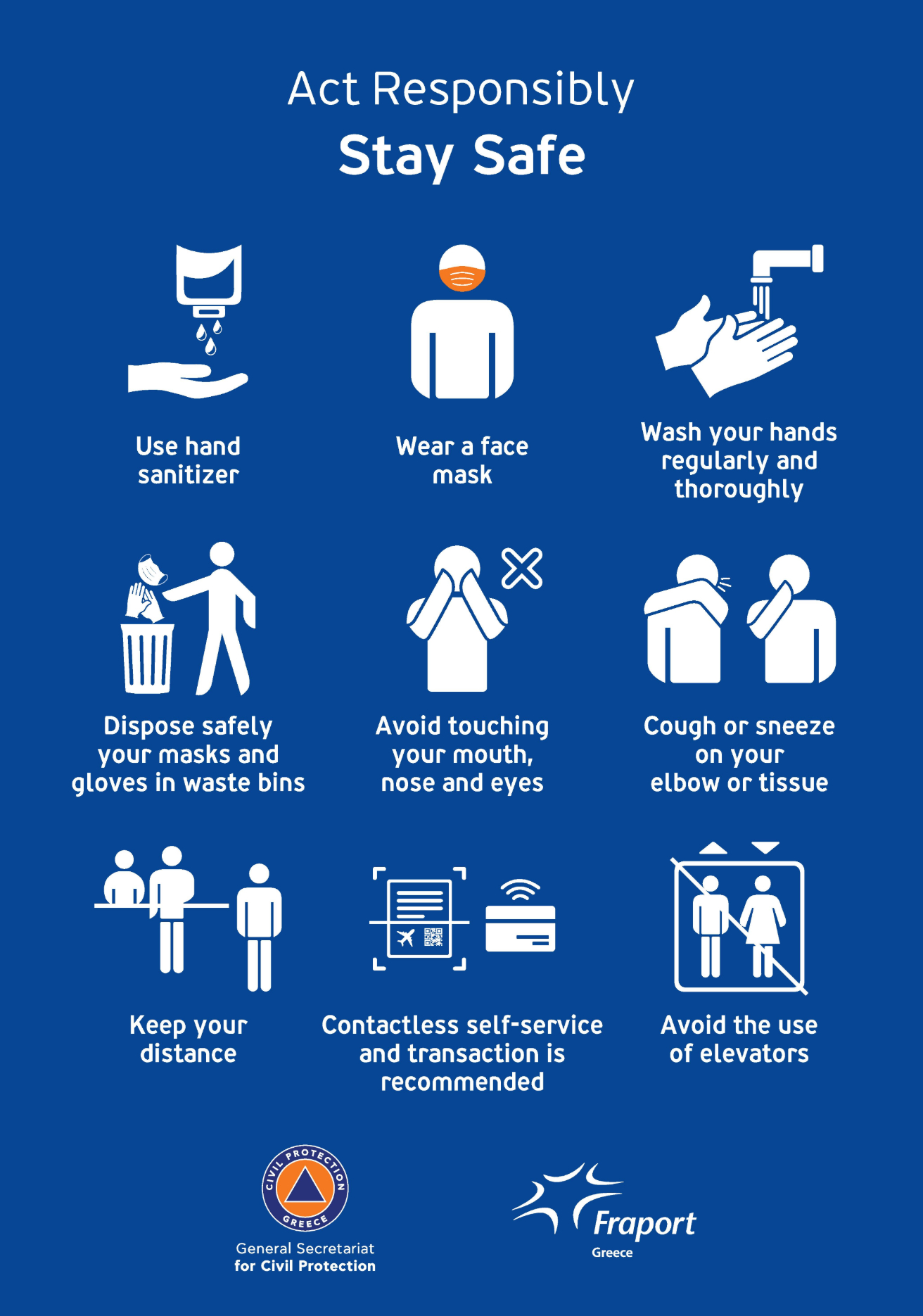 The schedules of public transport to/from the airport may have been affected. For confirmation of the timetable and for more information, you may contact directly the bus operator, by clicking here.
Wearing a mask in all public means of transportation is compulsory.
If you are not a passenger, you should avoid entering the passenger terminal building.
Several shops and restaurants at the airport are open. Their operating hours might have changed.
Further information for Greek Nationals/Citizens that are in emergency situations abroad may be found here.
COVID-19 advice for travellers by the National Public Health Organization is available here.
For flight and on-board related information, you may contact directly the respective airline. Contact details are available here.
For all other inquiries, you may reach us through our contact form, by clicking here.