Surely Empress Cleopatra and Anthony knew better when, in Roman times, they used to take prolonged holidays on Samos, "surrendering themselves over to the feasting" as Plutarch wrote.
Of course, Samos' history goes back in time way before it started its course as a low-key holiday resort and a, nevertheless, year-round island destination that it is today.
Essentially a continuation, from a geological point of view, of the great sierra traversing western Turkey near the Asia Minor coast, from which it is alienated by the narrow Mykale Straits, a swimmable distance of 3 km, the highland of Samos – its name meant "high" in Phoenician obviously due to its craggy, volcanic mountain ridge, among the tallest in the archipelago, was already a political, economic, and naval power at times when Athens was still young.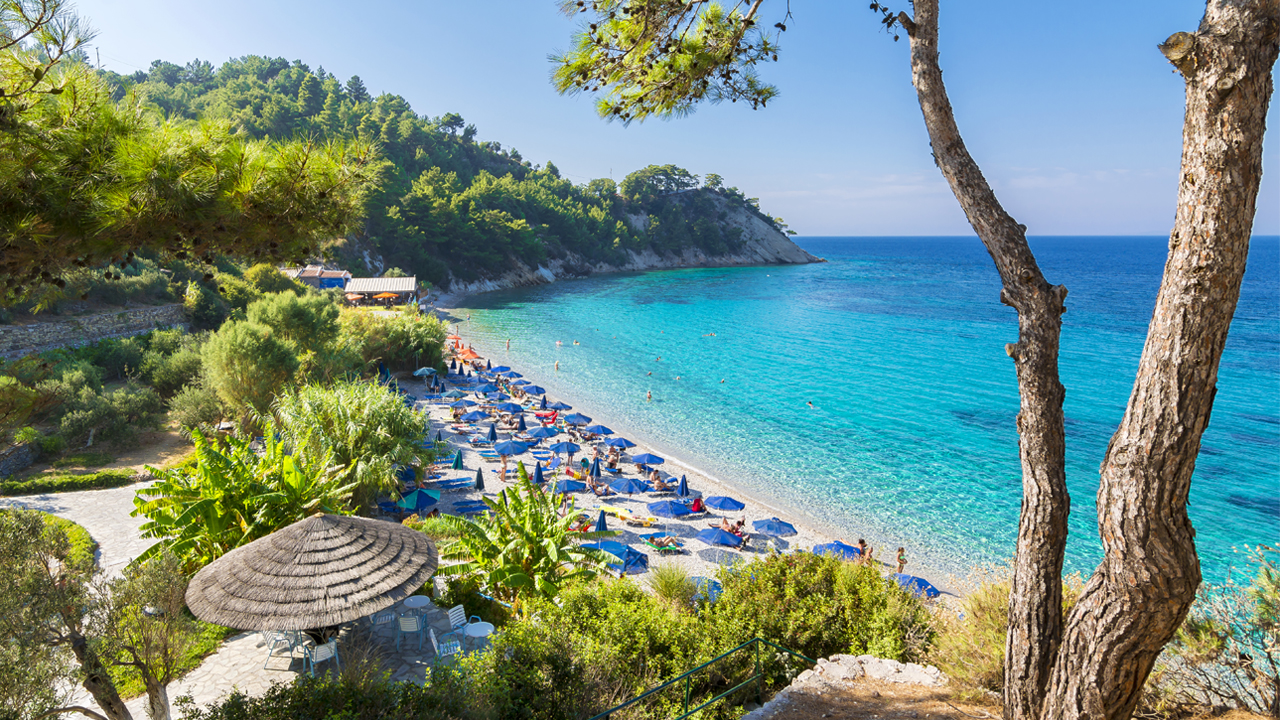 Small though it may be, but with a hefty for a Greek island surface of 476 sq. km., Samos has a formidable Libro d' Oro list of great citizens stretching through the ages to show off among the Greek destinations: The fabled Aesop (writer of "The Boy who Cried Wolf" and other worldwide notorious fables), the hedonistic philosopher Epicurus, and Aristarchos, the first in history to place the sun at the center of the solar system, all lived on Samos. And above all, Pythagoras. The great mathematician was born in Samos' ancient capital in 580 BC, which was renamed Pythagorio, only recently, 62 years ago, in his honour.
All those have left their indelible mark here and that's why Samos was historically significant. It was goddess Hera's mythological birthplace, and the Heraion, her sanctuary, was not just a temple to Hera, but The Temple to Hera, the center of the cult and quite possibly the first to use a roof. It was Samos' scientific ingenuity, also professed by the Evpalinos Tunnel, the 1035-metres long, underground water conduit, a showcase of ancient engineering mastery, which was constructed back in 524 BC surely without the use of nowadays modern tools, such as those for accurately measuring azimuth and zenith angles; beginning in the same breath, at either end of the island and meeting precisely, perfectly in the middle, the implementation of this extraordinary construction, part of which is accessible by the public today, still remains an enigma.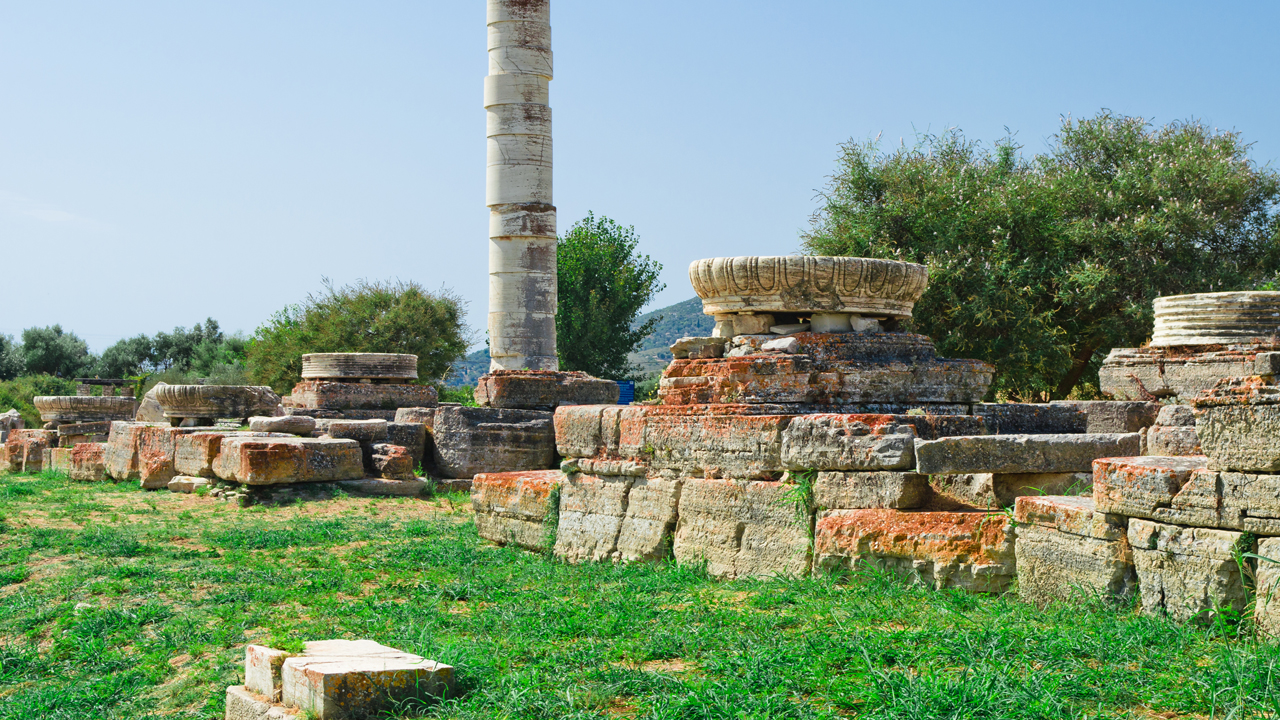 And it is Samos' verdant hinterland, the unspoiled villages and terrific mountain views that defend the island as an undiscovered Eden.
The truth is that despite the fact that it is one of the most beautiful Greek islands, Samos remains lesser known to the majority of holidaymakers, nonetheless to its advantage, since the lack of mass tourism's side effects has left the island's natural beauty intact giving to any visitor the opportunity to indulge into this wild gem's pure pleasures.
Under these terms, Samos should be registered as first priority on every explorer's or nature lover's must-visit list. Felicitous landscapes, villages perched on ravines, endless vineyards, green mountains with surprising twists, hidden coves and lacy off-the-beaten-track coasts with clear aquamarine waters, abundant flora armed with myriad species of wildflowers that paint and carpet the landscape each spring in pink oleander, red poppy, and purple sage, ensure an overdose of awe-inspiring experiences.
And lest we forget that the Samians, despite being notoriously warm-hearted, are cool in such a way that they can claim the prize of the official representatives of original Greek xenophilia. Who's to know why? Thousand years ago, Samos was known for its crockery and its wine; and the Samian nectars, especially the sweet Muscats, are widely exported today worldwide. So you can blame the wine for that.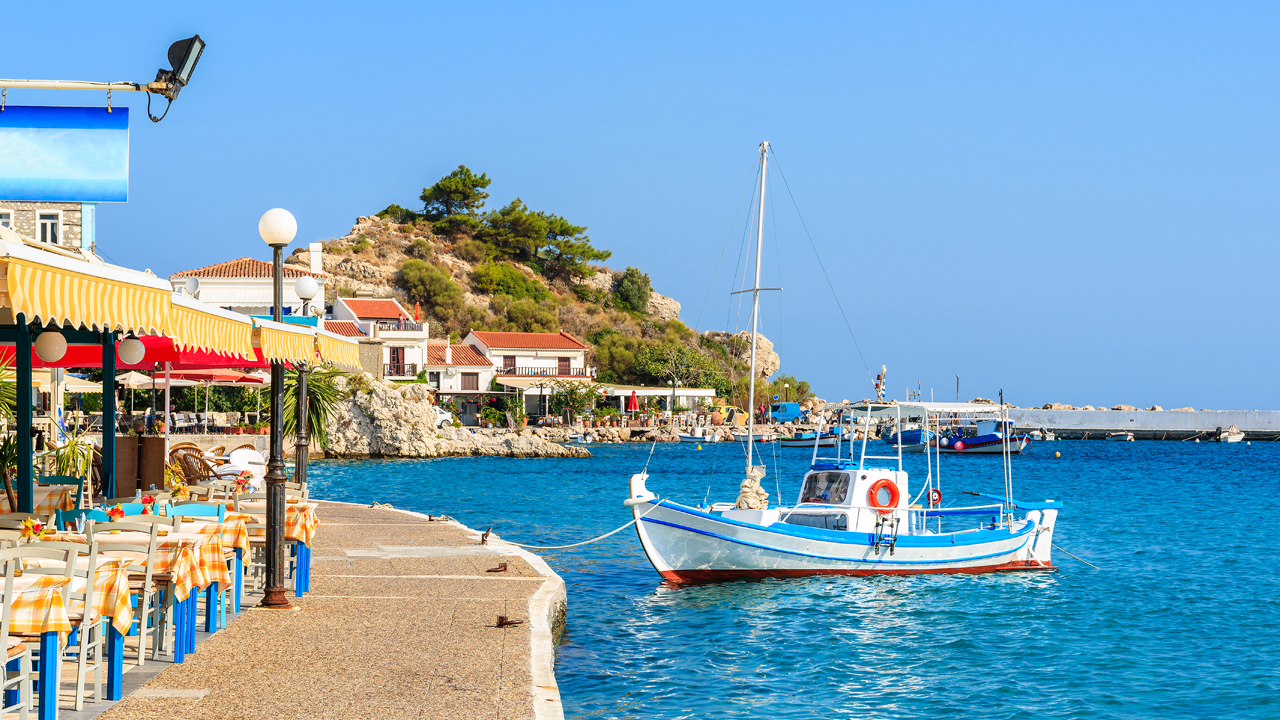 Samos For You
An island where you'll fall head over heels for its natural landscape. Savour its local delicacies and connect with nature!